valika
So funny! Thanks for this

wings128
! I know, who is this fictional character travelling with me! ;)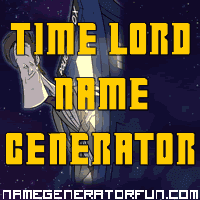 You are the Renegade Time Lord known as: The Optician
Your original Gallifreyan name is Maxilextralorquaelltharhyra, or Maxilex for short.
Back on Gallifrey, you led a dull and uninteresting life, working as a Professor of Interstitial Physics at the Arcalian College – but now, you travel Time and Space in search of adventure!
Your Type 49 TARDIS is currently stuck in disguise as a post-box, and your latest travelling companion is a barbarian warrior from a mythical land, unaware he's actually a fictional character somehow mapped onto reality.
Get your own time lord name from the time lord name generator!